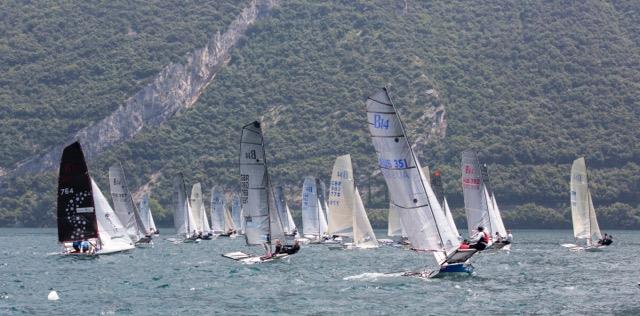 B14 Worlds at Lake Garda day 1 - photo © Tim Olin / www.olinphoto.co.uk
Now the real hard stuff starts with the Northern and Southern hemispheres vying for the World Title. Going on the showing from the Euros, and with more European teams making the line including Blue Badge (Mike Bees/Ferrett), the outgoing European Champions, anything is possible.
Race 1
The wind strength was 8 to 12 knots from the south – a few holes with 4 to 6 in the corner after the cliff.
Left paid on the first race, first around the top mark was AUS 371, second was AUS 375 and third AUS 793.
Lucky point was good – there wasn't any substantial change sin the top beat – three lap race, but the results didn't really change after the first work. Pin favoured straight into the cliffs from the straight and playing the breeze along the left shore was the key.
Positions didn't change on the run. Next work left kept paying final results were AUS 371 in first, AUS 375 in second and FRA 773 in third.
A few notable teams had a bad first race, which will put the pressure on for the rest of the event with the famous Ora expected to not be as reliable for the World Championships as it was for the Europeans last week.
Race 2
The second race of the day was a two lap race with significant position changes among the top ten boats. The right side paid on the first work with Alan Davis and Rich Bell in GBR 787 rounding in first with AUS 371 in second. On the downhill Nick Craig/ om Pygall (GBR 796) had a good run catching up with the top few boats, as did the Cadre brothers in FRA 773. Up the work the right side paid again with a significant wind shift, with Davis/Bell and Guy Bancroft/David Grace closing the gap on the two leaders dramatically. The first two boats round the windward mark were from the left, Peter Knight and Jane Reeves in GBR 785 and Tim Harrison/Jonny Radcliffe (GBR 758). On the last run, the boats that gybed early to cross to the stronger breeze in the centre had big gains over the boats that chose to sail into the convergence zone around the point. First over the finish AUS 375, second was Bancroft/Grace AUS 793 and third were Davis/Bell GBR 787.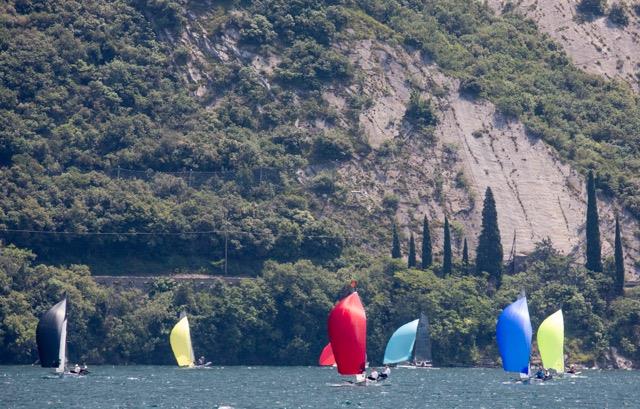 B14 Worlds at Lake Garda day 1 - photo © Tim Olin / www.olinphoto.co.uk
The evening saw the Brit's Pimms Party and chance to nobble a few antipodeans in the process!
Thanks goes to the sponsors; Contender Sailcloth, Team Fantastica, Hamburg Sud, Seavolution, Trentino Provionce, WD40 and Zhik.
Results after Day 1:
| Pos | Sail No | Helm / Crew / Club | Boat Name | R1 | R2 | Pts |
| --- | --- | --- | --- | --- | --- | --- |
| 1 | AUS 375 | CRAIG GARMSTON / PAUL NEWMAN / MCCRAE YACHT CLUB | SNATCH | 2 | 1 | 3 |
| 2 | AUS 371 | RICK PLAIN / MIKE VINCENT / MH16SC | BANG BANG | 1 | 5 | 6 |
| 3 | AUS 793 | GUY BANCROFT / DAVE GRACE / MCCRAE YACHT CLUB | BONUS | 4 | 2 | 6 |
| 4 | FRA 773 | CADRE ALAIN / FRANÇOIS CADRE / CLUB NAUTIQUE DE CASTELNAUDARY |   | 3 | 6 | 9 |
| 5 | GBR 758 | TIM HARRISON / JONATHAN RATCLIFFE / GURNARD SAILING CLUB |   | 5 | 4 | 9 |
| 6 | GBR 785 | PETER KNIGHT KNIGHT / JANE REEVES / RESTRONGUET SC | DEMELZA | 6 | 7 | 13 |
| 7 | GBR 771 | MIKE BEES / MARTIN WORTH / BRIGHTLINGSEA SAILING CLUB | BLUE BADGE | 11 | 8 | 19 |
| 8 | GBR 795 | MARK BARNES / CHARLOTTE JONES / WHITSTABLE YC/EXE S.C. | TEAM GUL/NORTH | 9 | 10 | 19 |
| 9 | AUS 373 | IAN CUNNINGHAM / DAVID CUNNINGHAM / MCCRAE YACHT CLUB | BONEWORK | 8 | 12 | 20 |
| 10 | GBR 787 | ALAN DAVIS / RICHARD BELL / WESTON SC | TROUBLEGUM | 18 | 3 | 21 |
| 11 | AUS 780 | RICHARD REYNOLDS / LISSA MCMILLAN / WOOLLAHRA SAILING CLUB | THE NUDE | 7 | 14 | 21 |
| 12 | GBR 791 | MARK WATTS / CHRIS BISHOP / WESTON SAILING CLUB | FLYING DONKEY | 12 | 13 | 25 |
| 13 | AUS 378 | NICK DARLOW / MAX UNRUH / MCCRAE YACHT CLUB | SIREN | 10 | 21 | 31 |
| 14 | GBR 769 | DANIEL COWIN / ALEX HORLOCK / BURGHFIELD SAILING CLUB | DADDY BOAT | 20 | 11 | 31 |
| 15 | AUS 782 | ANDRE WEBSTER / KATE FOURNEAUX / CANBERRA YC | SPECTRE | 13 | 18 | 31 |
| 16 | AUS 792 | ADRIAN BESWICK / JONO LEBIS / LEVEN YACHT CLUB | ROCKETSHIP | 14 | 17 | 31 |
| 17 | GBR 786 | GERALDINO FERMOR / LEAKY FERMOR / RYA | TORQ IN 200 | 16 | 15 | 31 |
| 18 | GBR 770 | SIMON HADLEY / NIKKI HADLEY / WHITSTABLE YACHT CLUB |   | 15 | 20 | 35 |
| 19 | AUS 778 | SOPHIE HUNT / ANDREW PAYNE / RSYS | HUNT LEATHER | 17 | 23 | 40 |
| 20 | GBR 783 | HENRY WELLS WELLS / TINC TYLER / WEST MERSEA YACHT CLUB |   | 24 | 19 | 43 |
| 21 | GBR 796 | NICK CRAIG / TOM PYGALL / FRENSHAM POND/WHITSTABLE Y.C./ | HARKEN/SANDILINE | dnf | 9 | 45 |
| 22 | AUS 781 | DAVID LOUTIT / MCCRAE YACHT CLUB | SIDE EFFECTS | 19 | 26 | 45 |
| 23 | GBR 757 | ALEX CAPON / PIERS LAMEBERT / BRIGHTLINGSEA SAILING CLUB | MRS C | 30 | 16 | 46 |
| 24 | GBR 762 | CRISPIN TAILER / GUY HARVILL / SYC | NA ANOTHER ABBO | 21 | 30 | 51 |
| 25 | GBR 772 | KATHY SHERRATT / DECLAN CLAMP / WESTON SAILING CLUB | TRUNKY | 29 | 22 | 51 |
| 26 | GBR 784 | STEPHEN BARNES / SIMON REYNOLDS / WHITSTABLE YACHT CLUB | NEIL PRYDE | 26 | 25 | 51 |
| 27 | AUS 794 | KELVIN BOYLE / STUART MCDONNELL / MCCRAE | FLIPPER | 23 | 31 | 54 |
| 28 | GBR 788 | JOSH WILCE / WILLIAM HALL / RUTLAND SAILING CLUB | B14‑ NORTH SAILS SEAVOLUTION‑ | 25 | 29 | 54 |
| 29 | AUS 351 | GLENN CARDWELL / DYLAN CARDWELL / ILLAWARRA YACHT CLUB | THE BANDIT | 27 | 27 | 54 |
| 30 | AUS 367 | STEVE MILLER / LUCY REES / MIDWAY POINT YACHT CLUB | PHANTOM | 22 | 33 | 55 |
| 31 | GBR 764 | TONY BLACKMORE / NAOMI POUND / STAR CROSS YC/BCYC | FLOWER POWER VR SPORT.TV | 33 | 24 | 57 |
| 32 | AUS 355 | STEPHEN MITCHELL / ADRIAN BELL / MIDWAY POINT YACHT CLUB | BONDI TRAM | 32 | 28 | 60 |
| 33 | AUS 368 | GEOFF WALDON / JIM GAAL / WOOLLAHRA SAILING CLUB | ORCA BLUSH | 28 | 35 | 63 |
| 34 | GBR 768 | JAMES GARDNER / HAYLING ISLAND | PSB REPAIRS | 31 | 32 | 63 |
| 35 | GBR 7 | CARL RAYNES / GUY RAYNES / WESTON | CUSTOMISED COMPOSITES | 34 | 34 | 68 |