Home of the International B14 Class
The pecking order has been established very early, on Day 1 of the Phaedrus Victorian Championship. Held in perfect conditions of 12 -15 knots off SSCBC.
World champions, Bangers and Grace, 3 bullets. National Champions, Garmston and Newman on 7 points. Cunninghams on 8 points.
Details

Written by

Ron Kane
The B14 European Class Association will be exhibiting (Stand A12) at the RYA Suzuki Dinghy Show (5-6 March). Come and find out what's in store from the B14 Flying Circus in 2016.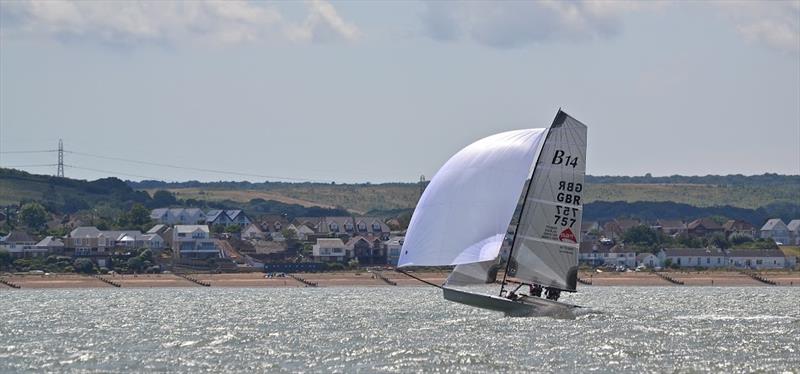 GBR 795 Team GUL/North Sails, a new boat in late 2015, and winner of the B14 inlands 2015 and Seavolution Winter Pursuit Series 2015 - 2016 will be on the stand. Some of you will have seen her on the GJW winter series, and on VRSport or Youtube. Have a look and get a taste of what the B14 can achieve. The fastest none trapeze none foiling hiking skiff in the World.
Details

Written by

Barnsie
The day five forecast was for light to moderate westerly winds at around 10 to 15 knots. The day was brilliant sun with partial cloud. As crews prepared their boats on the startline for race 7, the wind was abating from around 15 to 18 knots.
Details

Written by

Adrian Beswick
The day four forecast was for light to moderate southerly winds at around 10 to 15 knots. The day was brilliant sub with partial cloud. As crews prepared their boats on the startline for race 7, the wind was building significantly and reached a stable 15 knots
Details

Written by

Adrian Beswick
Upcoming AUS Events
Annual Pittwater Regatta hosted by Midway Point Yacht Club
---
Upcoming Worlds and European
Port Dalrymple Yacht Club
B14 worlds in Tasmania, Port Dalrymple Yacht Club
---