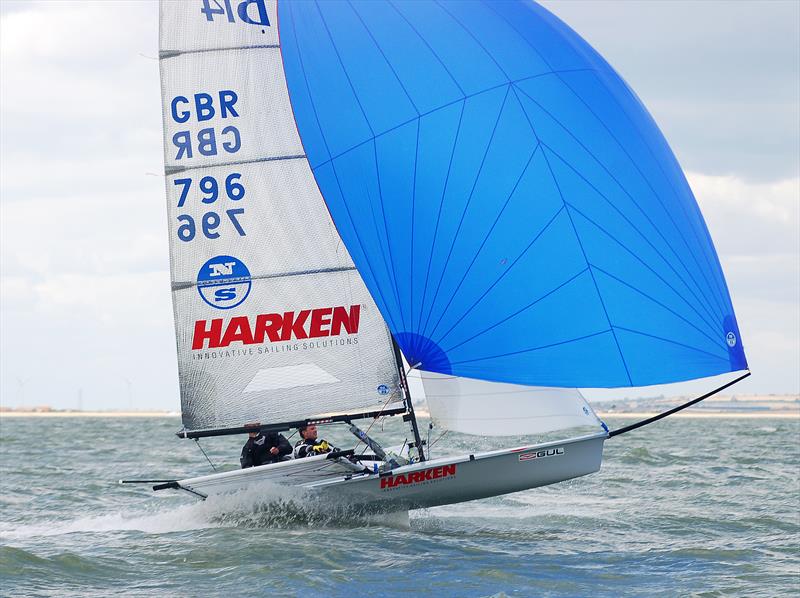 Gul B14 Nationals at Whitstable © Nick Champion / www.championmarinephotography.co.uk
Day 4 of the Gul B14 nationals, only 4 of 10 races had been sailed, With a maximum of only 4 races on the day, the championships effectively started again with only one discard available. Looking at the form guide and odds, would it be a good day to place a bet.
Conditions were for a force 2–3 swinging between West and North North West. Harken and P&B had used their discards, with the next 3, English Braid / Griptec, Gul / North Sails and Dimelza still looking good.
In the Classic Fleet it was a race between Team Horlock (Alex Horlock/Iain Horlock) and Team Willis/Keightley-Hanson (Iiam Willis/Abby Keightley-Hanson).
Race 9 was to prove one of snakes and ladders, but the front group gradually broke way with the lead changing several times. At the finish it was Gul / North Sails from Dimelza and P&B, putting more heat on Harken.
Race 10 and Dimelza had a blinder. Having been over the line they worked the right hand side of the beat and clawed their way to the front whilst Gul / North Sails, Harken and the other main protagonists worked the left to middle ground. Dimelza got off to trot and led home, chased by Gul / North Sails and a recovering Harken coming down the middle in pressure passing three B14s in the last 200 metres who were coming from the right.
It seems that Dimelza had woken up and roared to a second straight win in race 1, with Gul / North Sails working through to 2nd, riding shot gun with English Braids/Griptec 3rd and Harken 4th.
So going into the last race Gul / North Sails had a 2 point lead and Dimelza was close to closing out the podium from English Braids/Griptec.
With 10 minutes until the cut off, Race 2 got away to a left hand shift just before the start, leaving Harken, Dimelza and Gul / North Sails at the committee boat end. As these 3 tracked left, they hit out right to hold a lane to the right side of the beat but the further right, the further you sailed as the wind bent left. Ullman Sails (Kathy Sherratt (Watts)/Josh Wilce) had won the pin and led round the windward mark followed by ASBO (Jack Sparrow/Gi) and a recovering Harken. With Gul / North Sails and Dimelza buried, it was looking sweat for Harken. Over the race Harken turned it on and won from Ullman Sails and ASBO with Gul / North Sails and Dimelza clawing heir way back, but with a lack of lanes to make ground, proved a step to far to recover before the finish.
Harken closed out the Gul B14 Nationals by 2 points from Gul / North Sails with Dimelza doing just enough to close out the podium from English Braids / Griptec.
In the Classic fleet Willis & Keightley-Hanson had a great day mixing it with the front pack whilst the Horlocks were close but always behind. As the numbers came in Team Horlock squeaked it from Willis/Keightley-Hanson by 2 points.
A well organized event run by Race Officer Howard Patterson and his team of volunteers, who had 4 days of testing conditions for all, and support ashore with food from Wizz/Keith and their teams.
Thanks go out to Gul for all the tokens and spot prizes.
The early bird prize, and carbon transom Go-Pro mount donated by Seavolution was won by ASBO, so allowing Jack Sparrow to start filming of his next short film shaking down some manoeuvres.
With the next big event being the Worlds at Beauty Point, Bell Bay in Tasmania at Christmas, it will be a case of who can step up to get the Ashes back off of the Aussies.
Overall Results:
If you finished in the top ten at the B14 nationals then enter your Gear Guide information here
| Pos | Sail No | Helm | Crew | Club | R3 | R4 | R5 | R6 | R9 | R10 | R1 | R2 | Pts | Gul Prizes |
| --- | --- | --- | --- | --- | --- | --- | --- | --- | --- | --- | --- | --- | --- | --- |
| 1 | 796 | Nick Craig | Tobytastic Lewis | Frensham Burghfield | 2 | 1 | 1 | (DNF) | 4 | 3 | 4 | 1 | 16 | 1st |
| 2 | 795 | Mark Barnes | Charlotte Jones | Whitstable Yacht Club | (5) | 4 | 3 | 1 | 1 | 2 | 2 | 5 | 18 | 2nd First lady |
| 3 | 785 | Peter Knight | James Wilkinson | Restronguet SC | 4 | 5 | 4 | 6 | 2 | 1 | 1 | (7) | 23 | 3rd |
| 4 | 797 | Mark Watts | Chris Bishop | Weston | 3 | 2 | 2 | 4 | 5 | 4 | 3 | (9) | 23 | 4th |
| 5 | 772 | Kathy Sherratt | Josh Wilce | Weston | 6 | 7 | (9) | 5 | 7 | 5 | 7 | 2 | 39 | 5th First Lady Helm |
| 6 | 791 | Jasper Barnham | Oli Wells | Snettisham Beach | 1 | 3 | (DNF) | 3 | 3 | 6 | 5 | OCS | 44 | First Newbie |
| 7 | 762 | Crispin Taylor | Guy Harrill | Starcross YC | 12 | (DNF) | 6 | 2 | 14 | 10 | 8 | 3 | 55 | |
| 8 | 764 | Tony Blackmore | Naomi Pound | Starcross YC | 10 | 10 | 5 | (13) | 12 | 11 | 11 | 10 | 69 | |
| 9 | 728 | Iain Horlock | Alex Horlock | Exe Sailing Club | 7 | 6 | (DNF) | 17 | 9 | 12 | 10 | 8 | 69 | 1st Classic Nationals |
| 10 | 681 | Liam Willis | Abby Keightley‑Hanson | Lymington Town | 9 | (DNF) | DNC | 9 | 8 | 7 | 9 | 6 | 71 | 2nd Classic Nationals 1st Youth Team |
| 11 | 786 | Geraldine Fermor | Leaky Fermor | | (DNC) | DNC | 8 | 11 | 6 | DNC | 6 | 4 | 81 | Mid poiint winners |
| 12 | 768 | James Gardner | Anne Gardner | HISC | 11 | 8 | (DNC) | 7 | 19 | 16 | 14 | 13 | 88 | |
| 13 | 77 | Alicia Clifford | Luke Graham | | 14 | 12 | 10 | (19) | 17 | 17 | 16 | 15 | 101 | 3rd Classic Nationals Endeavuor Trophy |
| 14 | 770 | Simon Hadley | Nikki Hadley | Whitstable Yacht Club | (DNC) | DNC | 7 | 10 | 10 | 9 | DNS | DNS | 105 | |
| 15 | 750 | Gary Parks | Christopher Webber | Restronguet SC | (DNC) | DNC | DNC | 15 | 16 | 14 | 15 | 12 | 118 | |
| 16 | FRA 777 | Sebastian Le Cam | Sophie Le Cam | Centre Nautique de Plerin | (DNC) | DNC | DNC | 8 | 11 | 8 | DNS | DNC | 119 | Furthest travelled |
| 17 | 775 | Rhys Triffitt | Stuart Hadfield | Rutland SC | (DNC) | DNC | DNC | 14 | 18 | 18 | 13 | 11 | 120 | Gul Kit awarded |
| 18 | 707 | Amir Shamsuddin | Adam Kitchen | King George SC | 15 | (DNF) | DNF | DNC | 15 | 13 | 17 | 14 | 120 | Gul Kit awarded |
| 19 | 724 | Stephen Hollingsworth | Al Storer | Restronguet SC | (DNC) | DNC | DNC | 12 | 13 | 15 | 12 | DNS | 121 | Gul Kit awarded |
| 20 | 749 | Will Rand | Querine Van Meurs | Lymington Town | 13 | 11 | (DNF) | 16 | 20 | 20 | 19 | DNS | 122 | Gul Kit awarded |
| 21 | 784 | Steve Barnes | Simon Reynolds | Whitstable Yacht Club | 8 | 9 | (DNF) | DNF | DNC | DNC | DNC | DNC | 132 | Gul Kit awarded |
| 22 | 672 | Christian Wilms | Daniela Alt | SSC Kahl | (DNC) | DNC | DNC | 18 | 21 | 19 | 18 | DNF | 145 | Gul Kit awarded |