No breeze (but plenty of sunshine) stopped play today. An attempt was made to get a race in but that was abandoned as the leaders approached the final windward mark. How happy you were about this depended very much on your position at the time...
Apparently some people saw dolphins so the day wasn't completely wasted.
The evening saw leaky games night. Teams raced to raise the cork from the depths of the leaky pipe structure, having to cope with holes, leaky joints and other teams stealing their buckets! Prizes included a brick, sweets and leaky pipe branded wooden spoons which quickly became WoMD.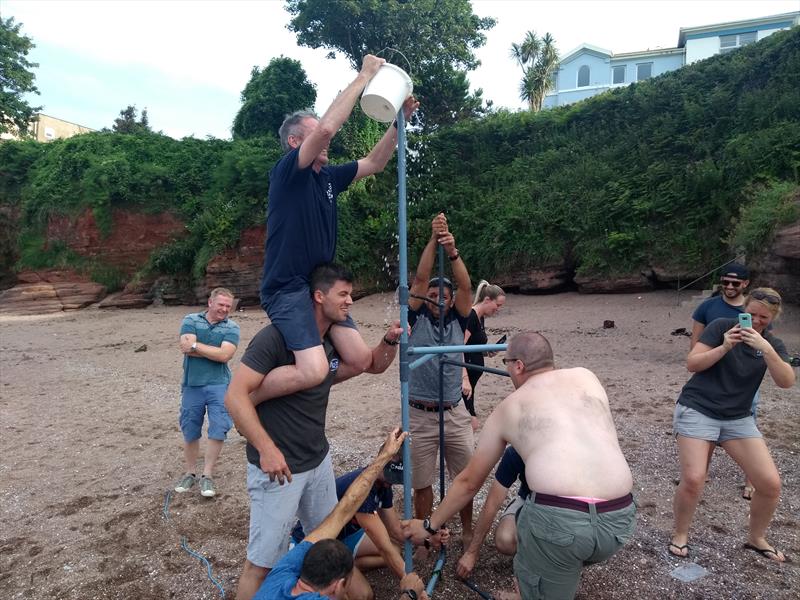 Leaky games night during the Gul B14 Nationals at Paignton - photo © Anthony Blackmore
Tomorrow's forecast isn't promising, but fingers crossed we will get some races in.
Results after Day 2:
| Pos | Sail No | Helm | Crew | Club | R1 | R2 | R3 | R4 | Pts |
| --- | --- | --- | --- | --- | --- | --- | --- | --- | --- |
| 1st | 765 | Steve Hollingsworth | Elliot Holman | Restronguet SC | 2 | -7 | 1 | 3 | 6 |
| 2nd | 786 | Geraldine Fermor | Leaky Fermor | | -10 | 2 | 2 | 2 | 6 |
| 3rd | 797 | Mark Watts | Matt Johnson | Weston SC | -6 | 3 | 3 | 1 | 7 |
| 4th | 771 | Mike Bees | Pete Nicholson | Brightlingsea SC | 1 | 6 | -7 | 4 | 11 |
| 5th | 78 | Kathy Sherratt | Josh Wilce | Weston SC /Rutland SC | 3 | 5 | 4 | -9 | 12 |
| 6th | 787 | Alan Davis | Charlotte Horlock | Weston SC / Exe SC | -12 | 1 | 6 | 12 | 19 |
| 7th | 758 | Tim Harrison | Anna Marriott | | -13 | 4 | 11 | 7 | 22 |
| 8th | 764 | Tony Blackmore | Meg Baker | Starcross | 7 | -12 | 5 | 10 | 22 |
| 9th | 770 | Simon Hadley | Nikki Hadley | Whistable SC | 5 | 10 | 8 | (DPI) | 23 |
| 10th | 789 | Henry Metcalf | Jasmine Husband | Restronguet SC | -9 | 9 | 9 | 6 | 24 |
| 11th | 785 | Peter Kight | Alex | Restronguet SC / Torpoint SC | 8 | 8 | -12 | 8 | 24 |
| 12th | 762 | Chrispy Taylor | Gi Harrill | Starcross SC | 4 | -11 | 10 | 11 | 25 |
| 13th | 620 | Ben Lloyd-King | Jez Page | Restronguet SC | 11 | -15 | 13 | 13 | 37 |
| 14th | 788 | Gary Parks | Chris Webber | Restronguet SC | (UFD) | 13 | 14 | 14 | 41 |
| 15th | 70 | Alicia Clifford | Chaelie Hadley | Whistable SC | 15 | 14 | -16 | 16 | 45 |
| 16th | 7 | Carl Raynes | Guy Raynes | | 16 | -18 | 15 | 15 | 46 |
| 17th | 735 | Tom Gatehouse | Kate Gatehouse | Netley SC | 14 | 17 | 18 | -20 | 49 |
| 18th | 766 | Barry Price | Adam Kicten | Grafham / Hayling SC | 19 | 19 | -21 | 17 | 55 |
| 19th | 749 | Will Rand | Q van Meurs | Lymington Town SC | 20 | 16 | -23 | 21 | 57 |
| 20th | 694 | Alistair Moppett | Rory Moppett | Bough Beech SC | -23 | 20 | 19 | 18 | 57 |
| 21st | 723 | Patrick Seyler | Stacey Bray | Porthpean SC | 22 | -24 | 17 | 19 | 58 |
| 22nd | 707 | Amir Shamsuddin | Al Storer | King George | 17 | -22 | 20 | 22 | 59 |
| 23rd | 731 | Stewart Hadfield | Lewis Kneale | Bala SC | 21 | 21 | 22 | -23 | 64 |
| 24th | 358 | Mattias Lange | Helge Ludwig | Blankeneser Segal Club | 18 | 23 | 25 | (DNS) | 66 |
| 25th | 672 | Christian Wilms | Daniela Alt | Eastbourne Sovereign SC | (DNF) | 25 | 24 | 24 | 73 |