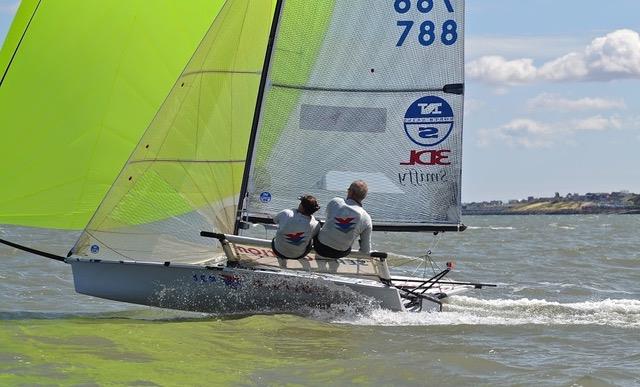 It looks like the B14 2022 TT series is kicking off with a bang over the weekend of the 19th - 20th March at Rutland Sailing Club. The class's five main winning protagonists over the recent period will all be there.
Lining up will be Harken GBR 796 (Nick Craig/Toby Lewis, current World and multiple event/class Champions), Team Seavolution/North Sails GBR 799 (Mark Barnes/Charlotte Horlock current National and multiple class champions), Blue Badge GBR 771 (Mike Bees/Martin Worth, past multiple champions), Highland Girl GBR 774 (Dave Hayes/Pete Nicholson, past multiple champions) and Brightmile GBR 797 (Mark Watts/Matt Johnson, multiple podium finisher). A line up that would match that of just about any domestic class, with possibly only the Merlin Rockets at their strongest bettering, of which three of these teams also compete in.
So if you fancy testing yourselves to see how you match up against these 5 teams of which several will need no introduction, do not be intimidated, then you need to be on that start line to experience probably some of the best dinghy racing in the UK over that weekend. With the 2022 season starting off with a bang and a full calendar leading in to the Europeans at Whitstable one of the UKs pre-eminent bits of racing water on 1st - 4th September 2022, if you fancy skiff racing, then you need look no further if you really would like to know how you match up against some of the fastest dinghy sailors in the UK.
There are currently a couple of top B14s on the second-hand list www.b14.org just waiting for the right teams to take them on their next adventure. Also if you would like to get involved as a crew of helm then go to the FaceBook page B14 Sailors and join in the discussions.
Designed by Julian Bethwaite and based on the Bethwaite 18 footer, you've no doubt been watching the JJ on 18footer.TV on YouTube (now the Murrey designed 18), well you could get an idea of the taste of what it could be like racing a B14 here in Blighty. Just imagine going downwind with 50 sq.m. of sail area doing 20 or more knots grinning from ear to ear as you get that adrenaline rush.
So if you want so great sailing at some great venues, sailing a great dinghy with a bunch of friendly but competitive souls, then you need to be in a B14 testing yourselves against these teams.
See all on the water in 2022 and lets all have a great season.