The B14 arrived at Porthpean Sailing Club on Thursday to sun and fantastic outlook to prepare for the Nationals.
Friday arrived, rain and no wind. However, after a 1 hour postponement, The fleet launched. There would be a 2 hour delay between race 1 and race 2 whilst the fleet awaited the breeze.
Throughout the races there was very tight racing at the front with a right old ding dong in race 1 between Team Harken (Nick Craig/Toby Tastic Lewis) and Team Gul/North Sails (Mark Barnes/Charlotte Char Jones). The latter pulled away and won as Harken battled with Demelza (Peter Knight/Jane Reeves) and Team North Sails/Troublegum (Alan Davis/Rich Bell). Race 2 was a repeat with the first 2 exchanging position but ending up with a repeat of the first race with the first 2 having nothing between them cross gybing into the finish, again going to Team Gul/North Sails.
Race 3 and this was the one where most action happened. The main protagonists ended up near the back, but Team Harken rolled the dice on the second beat and banged the corner and jumped the fleet coming in on pressure to lead into the finish over the last lap and a half of the 3 lap race from Donkey (Mark Watts/Chris Bish Bishop) and a recovering Team Gul/North Sails.
Race 4 and the pin pile up occurred but Team Gul/North Sails Pulled off the jump and led from Start to finish protecting the hard left but being hounded by Donkey and Team Harken all the way till the last run where they squeezed a little ground.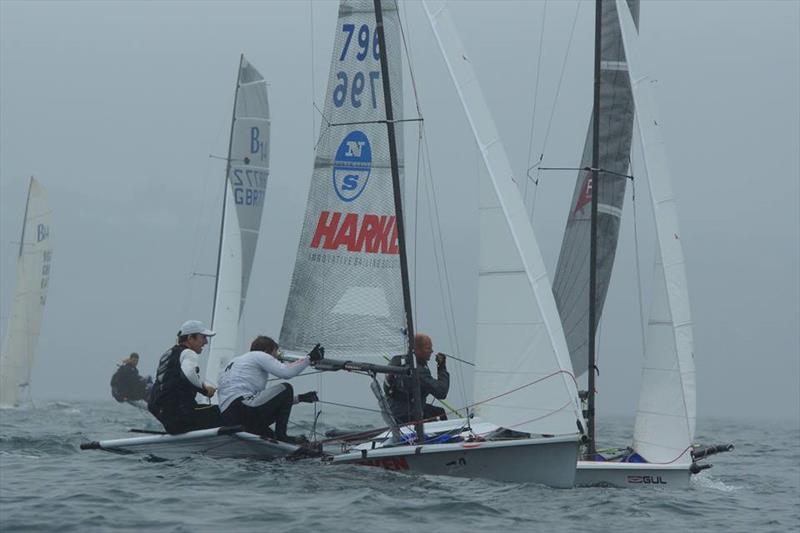 Gul B14 Nationals at Porthpean day 1 - photo © Chris Bilkey
So overnight Team GUL/North Sails lead from Team Harken, Donkey and Team North Sails/Troublegum. After a hard long day on the water, the fleet enjoyed Go Pro footage off Team Harken and the commodore's reception. Tomorrow may or may not happen as big winds and seas hit the SW. One thing is sure this event is going to go down to the wire.
Results after Day 1:
| Pos | Sail No | Helm | Crew | Club | R1 | R2 | R3 | R4 | Pts |
| --- | --- | --- | --- | --- | --- | --- | --- | --- | --- |
| 1st | 795 | Mark Barnes | Charlotte Jones | Whitstable SC | 1 | 1 | ‑3 | 1 | 3 |
| 2nd | 796 | Nick Craig | Tobytastic Lewis | Frensham Pond | ‑2 | 2 | 1 | 2 | 5 |
| 3rd | 791 | Mark Watts | Chris Bishop  | Weston SC | (DNS) | 5 | 2 | 3 | 10 |
| 4th | 787 | Alan Davis | Rich Bell | Weston SC | ‑4 | 3 | 4 | 4 | 11 |
| 5th | 785 | Peter Knight  | Jane Reeves | Restronguet SC | ‑5 | 4 | 5 | 5 | 14 |
| 6th | 728 | Alex Horlock | Jim Pearce | Exe SC | 6 | ‑8 | 6 | 8 | 20 |
| 7th | 724 | Stephen Hollingsworth  | Elliot Holman | Restronguet SC | 7 | ‑9 | 7 | 9 | 23 |
| 8th | 772 | Kathy Sherratt  | Dee Clamp | Weston SC | ‑11 | 6 | 8 | 10 | 24 |
| 9th | 789 | Henry Metcalfe | Jasmine Husband | Restronguet SC | 9 | ‑12 | 9 | 6 | 24 |
| 10th | 764 | Tony Blackmore | Naomi Pound | Starcross YC | ‑10 | 7 | 10 | 7 | 24 |
| 11th | 723 | Patrick Seyler | Steve Coello | Porthpean SC | 3 | 10 | ‑13 | 12 | 25 |
| 12th | 774 | Jeremy Hawkins | Suzanne Hawkins | Porthpean SC | 8 | ‑11 | 11 | 11 | 30 |
| 13th | 750 | Gary Parks | Saskia Autumn | Restronguet SC | ‑13 | 13 | 12 | 13 | 38 |
| 14th | 749 | Will Rand | Querine Van‑Meurs  | Lymington Town SC | 12 | (DNF) | DNS | DNS | 44 |
| 15th | 736 | Craig Brown | Liam Stacpoole | Restronguet | (DNS) | DNS | DNS | DNS | 48 |