The final results are in and are attached in the form of a spreadsheet if your interested in the numbers.  For those that are just interested in position here's a cut down version of the list:
| | | | | |
| --- | --- | --- | --- | --- |
| Position | Sail No. | Helm | Crew | Boat Name |
| 1st | 771 | Mike Bees | Martin Worth | Blue Badge |
| 2nd | 795 | Mark Barnes | Charlotte Jones | Gul/North Sails |
| 3rd | 791 | Mark Watts | Chris Bishop | Flying Donkey |
| 4th | 787 | Alan Davis | Richie Bell | Troublegum |
| 5th | 786 | Gerry Fermor | Chris 'Leaky' Fermor | Torq |
Details
The GUL TT Series Results leading into this weekends final round at Datchet have been uploaded to the files section of this site. All to play for! - can the Blue Badge duo, Mike Bees and Martin Worth hang on to take the series or will someone else sneak the series win by Sunday afternoon? Its the best 4 out of 5 events to count for the Series.
Also most importantly the big end of season Series Prize Draw will be made at the conclusion of the Datchet event for two nights B&B at the Watergate Bay Hotel in Cornwall, including a surf and or SUP lesson, all generously provided by series sponsor GUL. Each B14 attending one of the B14 GUL sponsored events receives one entry in the draw.
There is still time to be in the draw if you can get to Datchet, but you have to be in it to win it.... see you there!
Details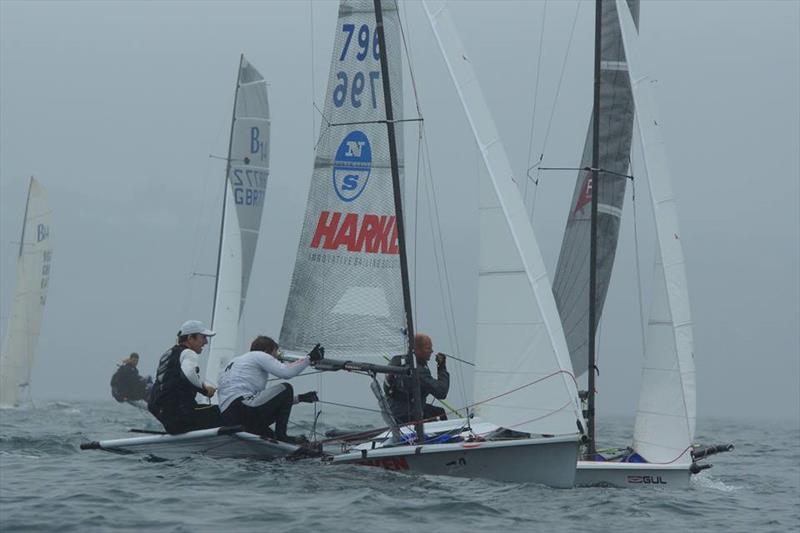 Day 3, with 4 x 45 minute races programmed to be sailed between 1030 and 1330, was going to be a bit like shotgun alley sailing. Team Harken (Nick Craig/Toby (Tastic) Lewis) had the advantage over Team GUL/North Sails (Mark Barnes/Charlotte (Char) Jones) but there was little to chose between these two, running exactly the same kit and Seavolution B14s, other than the latter had used up their discards if wishing to win with another 2 teams breathing down their necks.
Details
World Championship Sponsors